Note: Possible account termination when using illegal leveling or illegally obtained gold.
【League of Legends】The Account or Password is wrong What should I do
2017-10-12 08:04:57
ATTENTION:If the account/Password is wrong within 15 days ( the day you received your Account),please contact us and we will help solve the problem as soon as possible. After 15 days, according to the website trading rules, We are not responsible for that. Sorry for any inconvenience.
A. Retrieve your Password with Verified Email
1. Visit LOL website (leagueoflegends.com)
2. Click on"Forgot Password"

3. your Region
4. Enter you Account Name

5. Enter your Email,Click on the Link.
6. Enter your New Password twice,Click on"Submit"

7. That's it!
B. Contact Riot SUPPORT

1. Visit LOL Website (leagueoflegends.com)
2. Click on"Support"

3. Click on"Submit a request"
4. Choose "I need help recovering my account"

The more Information you provide,The easier you get your Account back

5. Contact the SUPPORT For the Reason of wrong Account/PW.

C. Contact Our CS for help.

1. Sign in our Site,Contact our Support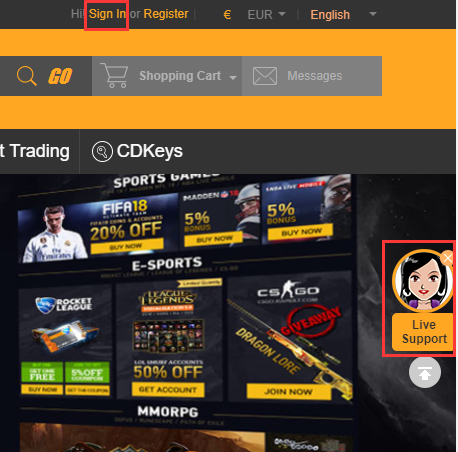 2. Provide the following Documents:Account,Current Password,Current Verified Email/Password,Screenshot/Email with Riot.

3. We will handle it ASAP,Please wait.